You can watch the return of migratory birds online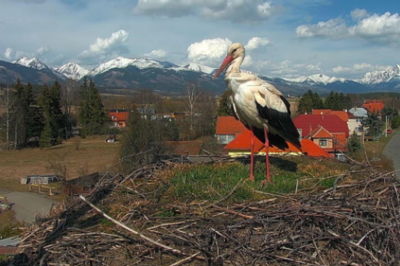 On April 1st, we celebrate International Bird Day. April is also the month when the most migratory birds arrive on our territory. Their arrival at the nests and nesting are watched not only by ornithologists in the field, but also by other enthusiasts from the comfort of their living rooms - thanks to the live transmission provided by telecommunication operators from the Telecommunication union of Slovak Republic (TUSR).

One such successful and award-winning project is KUKAJ.SK, which provides an online webcast of the lives of protected animals. The cameras are located in Liptov, in the High Tatras and in Rusovce. The transmission is 24 hours a day in HD quality and about 20% of the cameras are 4K. The data flow from the cameras is at the level of 1.5 Gbit/s towards the technical center. The data is subsequently stored and used for the needs of television and schools. Thanks to this project, recently it became possible to watch, for example, the sea eagle and the golden eagle in front of the cameras.

April 1st is also April Fool's Day. April Fool's jokes spread in Slovakia in the 20th century. It has become a custom that on April 1st you can "take a shoot" at someone with impunity. For example, the media also released more than one "journalistic duck" on this day in the past. Sometimes even nature, specifically birds, plays a joke on us, and a telecommunications operator from the Tatras experienced this kind of joke firsthand.

One day, the technicians of the telecommunications operator noticed a change in the parameters of the transmitter, so they went out for a service. When they got to the transmitter, they saw a magpie fly away from the antenna with something shiny in its beak. A magpie was attracted by an element of the antenna glistening in the sun, and in an attempt to get it, it damaged the antenna with its beak. The technicians solved the situation and painted the spare part so that it would not attract the magpie-thief again.


Telecommunication union of Slovak Republic unites telecommunications operators who are committed to conducting business ethically, supporting economic competition and focusing on the development of electronic communication networks and services in the Slovak Republic for the benefit of consumers. The membership base already consists of approximately 50 operators who provide access to the internet, voice and television services. Currently, TUSR members are not only local and regional operators, but also operators providing wholesale services throughout the Slovak Republic. TUSR is a member of the European Association for Competition in Telecommunications (ECTA).